Power Women in Business Honorees celebrated in Brooklyn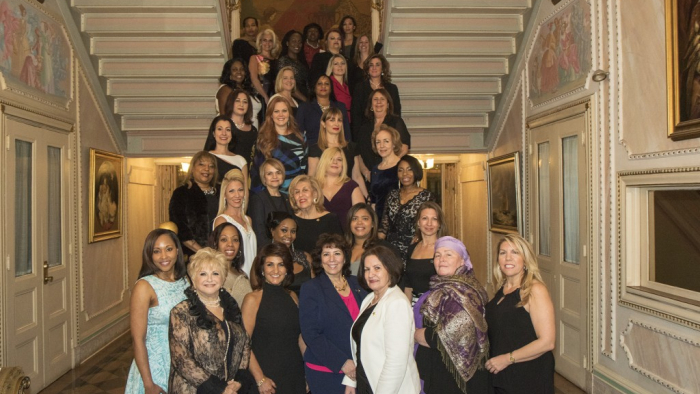 Brooklyn women shone bright on Wednesday, March 16 as 34 of the borough's successful entrepreneurs, business owners and community leaders were honored at Star Network's 2016 Power Women in Business Awards and Networking Event.
Held at the always extravagant Grand Prospect Hall (263 Prospect Avenue) the evening's honorees, exhibitors and guests dined, danced and donated the night away, at an event that spotlighted some extraordinary ladies and the causes they hold dear.
"I think that any time women support each other, it's an amazing engagement," honoree Janine Acquafredda, co-founder of Realtors 4 Rescues and an agent with House & Key Realty, said. "I think tonight is more than powerful business women. I think it's about women and family and community and business, so it's really special."
"What I love about this event, and why I'm honored, it's not [only] about women in business," said Josephine Bruzzese, branch manager and AVP at Investors Bank and one of the night's honorees. "It's also about women giving back, making a difference in the community and being an inspiration to other women and young children of today. So that's what makes me feel so privileged to be here."
Anna Moccia, a representative with Investors Bank, felt Bruzzese was very much deserving of the honor.
"We're here because we want to honor our manager," Moccia said. "We want to congratulate Josephine. She really does work very hard and this is so well deserved."
Representatives with Empire State Bank – another exhibitor and sponsor of the event – also felt it was important to honor hard-working women in the community and make connections with people through the event.
"We enjoy this event very much and we meet a lot of new people," said Jeanne Sarno, first vice president and business relationship manager with Empire State Bank. "Hopefully [that means] we'll get together afterwards and it's just a very nice event. Women today, they make a mark in the world, and this is all celebrating that."
"This is the type of function that recognizes a lot of people who do a lot for the community, who might not be recognized otherwise," added attendee Nick Miraglia.
Also recognized that evening were two charities – CHiPS, a community soup kitchen and shelter for women with infants and Diva for a Day, a non-profit organization that strives to give women facing cancer a day of pampering – receiving 100 percent of the money raised by a raffle whose prizes included a trip to Cancun.
Honoree Antoinette Monaco, herself a cancer survivor, spoke about being touched by each woman's dedication, drive and passion for community.
"While I didn't know what to expect this evening, I was pleasantly surprised to be in a room filled with such incredible women that had such positive energy and have truly, truly touched my heart," said Monaco, a practicing litigator with 25 years of experience and partner with firm Monaco & Monaco. "[They have] really strengthened my commitment to be a part of the community and to help people."
"Women are in positions where they can make a difference in the lives of other women and families," added Lisa Robateau, honoree and president/clinical director of Robateau and Associates. "To be recognized is always a nice thing and I think it's important because we are the foundation of families and so when we are involved in the business realm, we make sure that the families – the people that we're working with – are well taken care of."
The night raised over $2,500 for the two charities, and honorees left with goodie bags provided by Frank Sorci, manager at Walgreens and gift certificates to the 5th Ave Hair Studio, provided by Honoree Nina Grullon.
"Star Network is pleased to acknowledge the many extraordinary achievements of these women," said Home Reporter Co-Publisher Victoria Schneps. "These fabulous women have been so successful because they have a passion for what they do. It is my privilege to recognize them."